High Temperature Pressure Sensor
CP5x1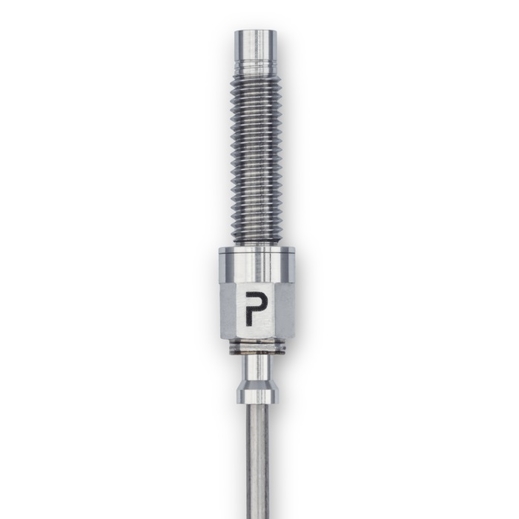 GENERAL INFO
R&D measurement tasks differ profoundly from those for serial applications. Environmental boundary conditions like temperature, mechanical stress or heat flux are often poorly known. Furthermore, testing time is usually limited and the measurement position new, so there is either no data or very little data to compare. This complex situation demands sensors which deliver a reliable signal which is not influenced by other physical quantities.
The CP5x1 is a versatile miniature pressure sensor perfectly suited for measurements in extreme conditions in R&D where space is limited. A particular focus of the design is the simple integration of the sensor in the setup. With the robustness of a piezoelectric sensor, as well as a high natural frequency and the exceptional signal quality of GaPO4 crystal elements, the CP5x1 boosts the limits for R&D applications in hostile environments. It can tolerate excursions to extreme temperatures with high gradients, mechanical stress and still produce a reliable and stable output.
FEATURES
Robust layout derived from a well-proven design
Single crystalline GaPO4 sensing elements
High signal to noise ratio
No pyroelectric effect or popcorn noise
Up to 560°C and 650°C short term
Various shapes and custom designs
Exeptionally low acceleration sensitivity
For use in gas turbines, sensors must be designed to be extremely temperature resistant and no "normal" metal alloys or plastics may be used. Consequently, Piezocryst exclusively uses refractory metal alloys, precious metals, sapphire elements and sensing elements made from single crystalline gallium phosphate (GaPO4). Even the cables are exposed to extreme thermal stress, and cooling air temperatures can exceed 500°C, excluding the use of conventional plastic insulated cables. Piezocryst uses what is known as a hardline cable; a metal cable made of extreme temperature resistant nickel-based alloy in which the conductors are embedded in compacted ceramic powder. By implementing these measures, the sensors (including the cable) can be used at a maximum operating temperatures of up to 650°C in this particular compact design.
Transverse GaPO4 sensing elements are used in order to achieve an excellent signal-to-noise ratio. A particular challenge is the application of fatigue endurable electrodes to the thermally anisotropic crystal material, covering the crystal two dimensionally. Piezocryst has developed various high-endurance, high temperature resistant coatings, ranging from precious metals to conducting ceramics just for this purpose.
« Back to list